upcoming concerts
---
2017-07-07

sommer am kiez 2017, open air oberhausen, helmut-haller-platz.
special guests: hush (cz)
sak 2017
---
2017-07-08
open air augsburg, bürgerhof.
special guests: hush (cz)
last concerts
2017-04-07
bob's, oberhausen, 22:30

---
2017-02-12
spektrum club, augsburg, 19:00
with yasi hofer
common information
---
2015-11-09
our new album "legs without brains" is available in our shop in beautiful silver print digipack edition. thanks to everyone who supported us and special thanks to eva gold for extra vocals and tom körbler for recording and production!
---
2015-11-08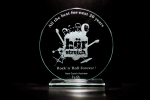 thanks to all you guys for celebrating our 20th band anniversary. it was fabulous! also thanks to the hushers for the awesome trophy!
we put some fotos online. videos are coming soon...
---
2015-10-30
first song taken from our new album and a short making of video
here
---
2015-10-26
trara.
just recieved a test print of our cd artwork... wonderful! glitter and sparkle....
---
2015-10-20
almost there!
we've finished all work on recording and mix and are busy doing the final mastering. artwork is already in print. the title of the new album will be "legs without brains" and - as far as we have heard - it sounds fantastic! can't wait to release this thing on nov. 07th!